The Technical Education College mission is to provide highly efficient instruction in rapidly changing technology fields. The Technical Education College promotes the development of critical thinking and attempts to instill in our students a value of life long learning and professionalism, as well as a commitment to contribute to and advance the communities in which they live and work. At the Technical Education College we try to focus on the whole student and their future, not just their current job duty requirements.
The Technical Education College (TEC), a non-profit (509a) Colorado based postsecondary school, focuses on accelerating and enhancing the recruitment and advancement of our student population through mentoring, training, networking, work-life integration and other activities. Clients of TEC include Veterans transitioning out of the military into the GS/Contractor job market and military personnel on local and national bases. Past efforts in curriculum creation and IT training delivery to the Pentagon, Space Commands, Army and Air Force have provided highly skilled IT professionals to the military who have successfully transitioned into the civilian job market.
TEC, along with it's corporate sponsors, aspire to meet the needs of the community and technology based industries through knowledge based assistance. Contact Us at 719-597-8446 or email for more information.
Accreditation and Testing
TEC is an accredited post-secondary school. TEC has undergone the rigors of the accreditation process through highly esteemed accrediting agencies. To become accredited TEC opened itself up to full review of its instructional methods and business practices. Once a student completes one of our intensive courses the student will receive a transcript and certification in their respective field. TEC's credits are recognized by employers requiring college credit for reimbursement as well recognized educational institutions.
TEC is a VUE testing center and is a non-profit member of the Comptia Jobs+ program offering discounted exam vouchers.
Adult Learning Theory
At TEC our courses are developed and taught to meet the needs of the adult learner with comprehensive, accelerated learning modules taught in conjunction with intensive hands on exercises. Most courses include published student textbooks authored by experts in their fields.  Much of our traditional learning experience has led us to believe that we learn best by listening to experts. It has been found, however, that learning that results in increased self-awareness, changed behavior, and the acquisition of new skills must actively engage the individual in the learning process. In particular, adults have been found to learn more effectively by doing or experiencing.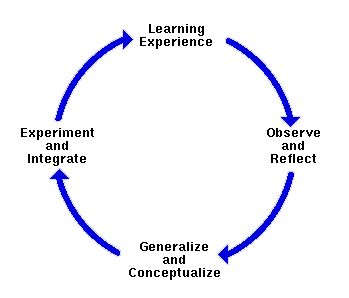 TEC believes the learning process is a four-phase cycle in which the learner: (1) does something concrete or has a specific experience which provides a basis for (2) the learner's observation and reflection on the experience and their own response to it. These observations are then (3) assimilated into a conceptual framework or related to other concepts in the learner's past experience and knowledge from which implications for action can be derived; and (4) tested and applied in different situations.
The adult learner assimilates useful information into their personal "experience bank" against which future learning events will be compared and to which new concepts will be related. Unless what is learned can be applied to actual work or life situations the learning will not be effective or long lasting. TEC's trainers responsible for designing learning events keep these phases in mind as they develop ways to help the learner understand and be able to use the new knowledge and/or skill.
Teacher Qualifications
The teachers at TEC are highly skilled and educated in their fields. All teachers have an advanced degree and certifications. Our teachers not only train but are actively working in their respective fields as scientists and engineers within high level Department of Defense R&D electronics and IT contracts.
Customized Training
Employers we provide customized training for your specific needs. The Technical Education College is a proven leader in creating classes that meet your training needs. We can provide a wide range of customized courses that can be offered at our campus or at your site.